Maidens throw oranges to fetch the apple of their eyes - Nation | The Star Online
GEORGE TOWN: Thousands of young people thronged the scenic Esplanade for the Chap Goh Mei celebration as maidens threw mandarin oranges into the sea with the aim of finding their soulmate.
The 15-day Chinese New Year ended last night with the traditional throwing of oranges for the ladies.
Friends Laureen Quah, 20, and Fiona Cheng, 30, were among the crowd.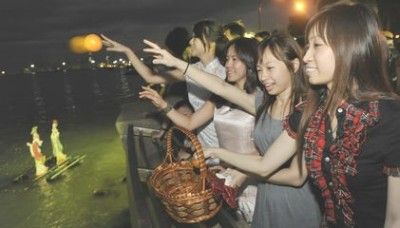 Aiming for Mr Right: (From right:) J'vy Ng, Wendy Ng, Fiona Cheng and Laureen Quah tossing oranges into the sea at the Penang Esplanade in the hope of finding their Mr Right in conjunction with the state-level Chap Goh Mei celebration. -GARY CHEN/The Star
Quah, a mass communications student at a private college, decided to join in the fun, but not so much as to look for a suitor.
"I am still young, there is no rush," she said.
For Cheng, being 30 and single is not a problem, though she admits to taking part in the event in the hope of meeting someone.
"I am doing this for fun but if I do meet a suitor, it is a bonus," she said.
In
PETALING JAYA
, Brian Lee, 25, was among the many hopeful men who were seen fishing oranges thrown in the lake in Taman Jaya.
"I am going to give this 'Janice' a call," he said as he held up an orange.
"I hope she is a cute and sweet girl. Maybe we could go out for coffee or a movie."
Lee said it was his second time at such an event and he hoped he would not have to come back next year.
"Maybe I might go steady with Janice by then!"
Project engineer Jocelyn Lam, 25, did not harbour much hope when she threw an orange with her name and telephone number written on it into the lake.
"I wrote 'Gong Xi Fa Cai' on it. I won't mind if no one picks it up. But if a nice man picks it up, then lucky me," said Lam.
In
JOHOR BARU
, revellers thronged the Johor Baru Ancient Temple to pray and give offerings to the deities.
Addendum
:
Chap Goh Meh singles party
"Julie Olson, 22, from the United States who threw two oranges, said it was a fun way to find a suitor.
"I don't have a boyfriend, so why not give it a try? I'll never know who may call or chat with me on Facebook," she added.
Two of her friends Stephanie Loo, 23, and Kathy Houng, 22, from the United States, threw three oranges each with witty messages, date of birth and heart symbols drawn on them.
Houng said she put down her passport number on the oranges "to be different from the others.""