"Too much of a good thing is wonderful." - Mae West
***
One of the things you get from [American] pop culture is the idea of the Science Fair where you get to muck around and set up all sorts of funky experiments - all in the name of doing your schoolwork.
I got to do a version of this in USP in NUS, making my own carbon arc lamp from a chopping board, 2 rubbers, nails, 2 disposable chopsticks, crocodile clips, batteries and mechanical pencil lead: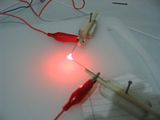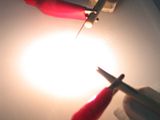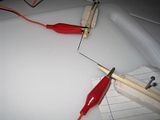 This produced one of the most brilliant lights ever (sunglasses were needed to avoid eye damage)
For students aged 13-18 who didn't take Innovations in Technology / Modes of Invention (the GEM equivalent), they can take part in Google's Online Science Fair (at least if they're not from "Cuba, Iran, North Korea, Sudan, Myanmar/Burma, Syria, Zimbabwe and any other U.S. sanctioned country").
It's online so you don't have to worry about people walking around and poking at your exhibit.
Campaign video:
with a science-inspired Rube Goldberg machine
The submission deadline is in under 12 hours (signup has been open since 11th January but maybe you have something cool lying around - and you can reuse a submission to
a recent science fair
).
The finals are around 11th July at Mountain View, California and 15 finalists will be flown there! And the grand prize is a US$50,000 Scholarship from Google, a "once in a lifetime experience" from CERN, Google, LEGO or Scientific American and a trip to the Galapagos Islands with National Geographic Expeditions.
More details:
Google Global Science Fair 2011
(This is a sponsored post)